Localore: Finding America is a public media production that includes a collaborative, real-time documentary, stories for broadcast, social and digital platforms, and community action and events in 15 places across the United States.
We will add events and details throughout the summer of 2016. Thanks for joining the fun. (And contribute your own videos, images and stories about America using the #FindingAmerica hashtag.)
Frontier of Change Art and Audio scavenger hunt, Anchorage, Alaska
June 3; 6-9 p.m.
Anchorage Museum
Join KNBA's Frontier of Change project for a special art and audio scavenger hunt in downtown Anchorage, presented in partnership with the Anchorage Museum. Come to the museum at 6 p.m. to start the hunt! Use your phone to hear stories and clues that will lead you to different locations throughout the city and collect limited-edition art from local artists along the way.
Precious Lives: Before the Gunshots Performance, Milwaukee, Wisconsin
June 15; doors open at 5 p.m., show 6 p.m.
Pabst Theater
Precious Lives radio goes live. This original experience features live performances by the kids and families you hear each week on the Precious Lives radio series. Witness their stories mixed live with music by Kiran Vee and video that adds new dimension to the radio series. Host Eric Von will be your guide through an evening that is not just about the reality of gun violence, but also a celebration of how our community rises against it.
Fort Drum at the Drive-In Theater, Watertown, New York    
June 16; 7-11 p.m.
Black River Drive-In Theater
Enjoy a rare brush with the untold stories of the north country's military. When the summer light stays late and the warm air feels perfect, we're bringing you an event like you've never seen! Pack everyone into your car and pull up for a wonderful night of stories. For the first time, North Country Public Radio is hosting a storytelling event on the big screen. Our special project, Homefront: Fort Drum, captures stories about your military community near Fort Drum. You'll have a chance to see it play at the gorgeous Black River Drive-In. We're excited to have you there!
7 p.m.: Music, food and activities
9 p.m.: Homefront: Fort Drum screening
10 p.m.: Independent film screening
Dímelo StorySlam, Tucson, Arizona
June 16; 7 p.m.
Saint Charles Tavern  
Bring us a story of a moment when you found your place. When you knew the secret handshake, wore the perfect glitter crop top to the first day of school, joked with all the bartenders at your local spot.
Or tell us too about NOT quite fitting in, about your putting-peas-in-guacamole moment, doing the Goonies "truffle shuffle," driving a Chevy into a parking lot of Fords! Have you ever changed your identity, your hairstyle, your accent, your movie taste — to belong?
Every ZIP Philadelphia & the Village Storytelling Block Party, Philadelphia, Pennsylvania
June 18; 3-6 p.m.
Village of the Arts and Humanities
Join Every ZIP Philadelphia and the Village for a Storytelling Block Party! The whole city is invited to North Philadelphia and the historic Ile Ife art park at The Village of Arts and Humanities to share stories, meals and summer joy. Top storytellers across Philly and neighbors of the Village will perform stories on the theme "A Story for my Younger Self." Hosted by Philadelphia Poet Laureate Yolanda Wisher.
From 3-6pm there will be music, food, arts activities, a recording booth for your story, a photo booth to capture your summer look, and local art. At 4 p.m. we will kick off storytelling performances. Storytellers include Jacob Winterstein, Kai Davis and Vashti DuBois.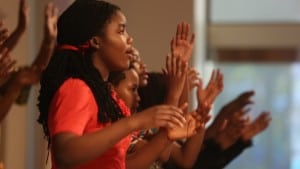 Beyond Belief Viewing Party; Kansas City, Missouri
June 21; 6-9 p.m.
KCPT Community Room  
Beyond Belief, an initiative of KCPT, aims to understand how religion is central to life in Kansas City. It focuses on stories of faith in action—looking at places where people of faith are tackling the hard issues — race, immigration, justice — that beg for solutions. It also ushers the "nones," who don't practice an organized religion, into the dialogue. In the film "Beyond Belief: Three Stories of Faith in Action," two local high schools journey south to learn about Civil Rights and each other; a Methodist church welcomes a growing group of African refugees; a small Presbyterian congregation honors its community with bilingual worship.
6 p.m.: Refreshments & live musical performance from members of the Kuomba Pamoja Choir
6:30 p.m.: Documentary screening
7 p.m.: Q&A with filmmaker Steve Mencher
From Creek Town to Tulsa Town Bike Ride, Tulsa, Oklahoma
June 25; 10 a.m.-3 p.m.
Tour kicks off at the Tulsa Hub Warehouse Space
The tour will feature audio components available on iTunes, so you'll need a smart phone and headphones for at least part of the tour. You'll also need a bicycle! If you don't have one, not to worry. Our friends at the Tulsa Hub will be providing one for a small donation (no one will be turned away). The tour will start at their warehouse location at 10 a.m. and will last two and half hours at the most. We'll be providing water, snacks and bike escorts along the way to keep everyone safe and hydrated. The tour will feature Creek sites that are well known and some that are not so well known.
What's the Flux Listening Party on Wheels, Bellevue, Washington
June 28
Crossroads Farmers' Market in Bellevue, Washington
The "Listening Party on Wheels" will be a celebration of public transit – for those who use it regularly and for those who work to make it possible. Come aboard a King County Metro bus, which will be parked at the Crossroads Farmers Market. The event will feature performances by the Seattle Women's Steel Pan Project, a remote broadcast from KBCS, listening and recording stations, and prize giveaways.
• Also in June, Knoxville residents can visit TruckBeat story booth at the East Knoxville health fair on June 18 and at the Kuumba Festival of African American Appalachian Arts on June 24.
JULY
I am Anacostia, Washington, D.C.
July 2, doors at 6:30 p.m., show at 7 p.m.
Anacostia Arts Center
"I Am Anacostia" is a theatrical piece that celebrates our stories east of the river. The production is to honor those who participated in the Anacostia Unmapped interview series. We will explore our collective story through improvisational playback theatre.
Secretly Y'all, Unmonumental and Untold RVA Present: Secret Stories of Self-Determined Change, Richmond, Virginia
July 9, 6:30-11:30 p.m.
The Hippodrome Theater
An evening of live storytelling and celebration at one of Richmond's most storied venues. Musical guests: Future Prospect with DJ Count Dakkula and DJ Carlito. Ticket includes hors d'oeuvres + champagne toast + admission to the afterparty.
Proceeds to support Groundwork RVA and the Maintenance of the African Ancestral Burial Ground
Charm City Live, Baltimore, Maryland
Thursday, July 14, 6-9pm 
The Frederick Douglas Isaac Myers Maritime Museum
Join us for a public media convening to examine what it takes to create a vibrant business in an economically challenging environment. Panelists include Dr. Joanne Martin, the National Great Blacks in Wax Museum; Anthony Williams, 
owner of Shake-n-Bake Family Fun Center
; Jake Oliver, Chairman of Afro American newspaper; and developer Tony Hawkins.
Storymakers Listening Hour, Durham, North Carolina
Thursday, July 14, 7 p.m.
"Roane is Better Together": A TruckBeat storytelling night, Harriman, Tennessee
Thursday, July 14, 5:30-7:30 p.m.
The Princess Theater
A story-sharing and community awareness event co-sponsored by District Attorney General Russell Johnson, Public Defender Kim Nelson, Roane County Health Council and TruckBeat 91.9 FM WUOT. Music, a photo-booth, and story-gathering at the TruckBeat truck.
Unprisoned BYO Live: "When the Young Feel Old," New Orleans, Louisiana
July 7, time and location to be announced
UnMonumental at the Regal, Richmond, Virginia
July 9, time and location to be announced
AUGUST
Every ZIP Live, Philadelphia, Pennsylvania
Aug. 4
WHYY